They provide full- service pet retail centers.
We all provide tools for successful outcomes.
We're all for Ohio
Tuesday October 11, Petland hosted the Ohio Chamber, Sen. Bob Peterson, and Rep. Gary Scherer for the fourth visit of the All for Ohio series.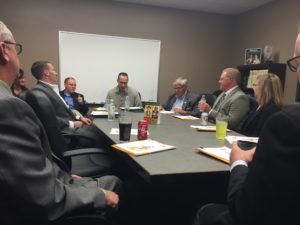 The legislators were given a firsthand look at how Petland has invested in the Chillicothe community as well as training processes and retail standards for the franchise-centric company.  Additionally, the legislators engaged in a question and answer session with Petland leadership and Ohio Chamber staff regarding public policy issues. Topics included unemployment compensation, breeding standards, and potential changes to the minimum wage.
"It was an honor to host the Chamber and visit with our local law makers," said Petland President and CEO Joe Watson. "We appreciate all the efforts of the Ohio Chamber and their support of Ohio businesses such as Petland."
Petland has 17 locations in Ohio. They franchise full service retail pet centers across the United States, Canada, Japan, China, Mexico, South Africa, Brazil and El Salvador. Petland was founded in 1967 and is headquartered in south central Ohio.
In an effort to curate conversations between political and business leaders, the Ohio Chamber has facilitated on site in district tours with our member companies to strengthen efforts in creating sound business policy at the state level.
#allforohio