The Kentucky legislature had a very busy weekend passing right-to-work, paycheck protection, and prevailing wage repeal all in a single day and on a Saturday no less. This was the fifth day of Kentucky's new 2017 General Assembly. In contrast, Ohio's legislature has not even finalized or announced committee assignments yet. The legislation was signed by Kentucky's Governor in short order and makes them the 27th right-to-work state and the fourth out of Ohio's five surrounding states with only Pennsylvania holding out.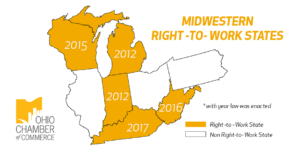 For those who do not follow these labor issues closely, here is a brief overview of what each of these bills will do.
•Right-to-work: Prohibits requiring any worker to join a union as a condition of employment.
•Paycheck Protection: Requires workers to "opt in" to having union dues withheld from their paychecks rather than most current practices of requiring a worker to opt out of having an employer withhold union dues.
•Prevailing Wage Repeal: Eliminates government defined hourly wage in construction contracts known as "prevailing wage on government projects."
For reference, becoming a right-to-work state helps to:
•create a competitive business climate through additional job creation,
•spur faster job growth, and
•create higher manufacturing output.
Site selectors who advise businesses on where to expand or locate a new business have indicated that typically half of businesses will not even consider investing in a forced-union state. Further, more than 75% of those businesses view right-to-work as an "important" or "very important" factor. Many times, this can lead to the elimination of locations in forced-unionization states at early stages of the search.
Further driving this point home is an article in Site Selection magazine following Michigan's passage of right-to-work in 2012 that indicated passage there would have an enormous impact for medium-tier companies looking to grow and that "greater competition with Ohio will be inevitable."
Remember, this legislation merely provides employees with a choice on whether to become or remain a member of an employee organization and whether the employee wishes to pay dues to the organization. The legislation does not prohibit or prevent an employee from joining a union. It just gives them a choice.
For Ohio to become right-to-work statewide, it is not quite as simple as the Legislature just passing a bill. Here, unlike Kentucky and some other states, we have the referendum process where any bill passed by the Legislature is subject to review and approval or rejection by voters.
Most recently, Senate Bill 5 in 2011 which would have reformed collective bargaining for public sector employees was subject to referendum process. This bill was staunchly opposed by labor unions and was ultimately rejected by voters, invalidating the law. Though right-to-work is different from collective bargaining reform, it would be subject to the same or worse opposition and hurdles.
However, now that Ohio is in the minority of states both regionally and nationally that are not right-to-work, this issue will need to be closely watched so that we do not become uncompetitive. Making things even more interesting is the fact that the United State Court of Appeals for the Sixth Circuit that covers Ohio recently ruled that local governments and counties can enact local right-to-work ordinances. In fact, West Chester Township near Cincinnati has already expressed an interest in becoming right-to-work and has it listed as a 2017 priority.