This is a new feature on our All for Ohio Blog. Each month we will spotlight a member of the Ohio Chamber of Commerce's Board of Directors. This month's profile is on Stewart Fletcher, Vice President of Operations & General Manager Heritage Thermal Services, East Liverpool, Ohio.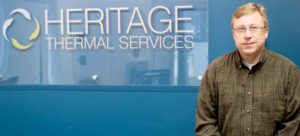 What does your company do?
Heritage Thermal Services provides advanced, environmentally friendly incineration services for organizations of all types that generate hazardous wastes.
How does your company impact to the Ohio economy/ benefit the Ohio business community?
We help protect Ohio's environment by responsibly managing environmental liabilities for private- and public sector organizations. Manufacturing and service industries of all stripes can focus on their business confident that we are nearby with solutions for their environmental compliance needs.
What is your role at your company?
I am responsible for all operations at the facility, which operates 24/7 and provides good jobs for 172 employees.
What do you hope to gain from your membership with the Ohio Chamber?
The Ohio Chamber of Commerce is a strong voice for business on topics ranging from changes with OSHA rules to taxation to health insurance to environmental affairs. We value their contributions greatly as an advocate for business.
How has serving on the board helped you or your company?
I was honored to be asked to serve on the chamber's board of directors. Our company has a deep tradition of actively participating in business and community organizations that make a positive difference. The Ohio Chamber certainly is one of those organizations.
How long have you been on the board?
My service on the chamber's board began late in 2016. I look forward to working with other members of the board as we promote jobs, opportunity and progress for Ohio's economy.
What are some of the latest goals/objectives of your company?

Safety, compliance and service are our key performance indicators. Monitoring, measuring and then implementing improvements, no matter how small, are constants for us.
How has the Ohio Chamber helped your company achieve those goals/objectives?
Membership in the Ohio Chamber offers a distinct opportunity for us to build and grow our business through the array of services and support programs that are available. The Ohio Chamber is a valued partner as we execute our business strategy.