Andy Piccolantonio, Assistant Vice President, Membership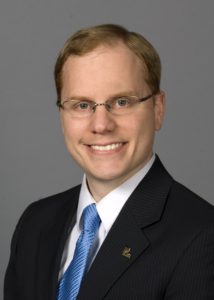 As the veteran on our Ohio Chamber membership team, Andy Piccolantonio uses his past experience as a small business owner to relate to Ohio Chamber members and potential members. He has been with the Ohio Chamber for nine years and now serves as the assistant vice president of membership.
"Andy P." as he is known around the Ohio Chamber graduated from Ohio Dominican University with a B.A. in Psychology. He and his wife Beryl live in Gahanna and have three sons (just like the television show) Vincent, Max and Alex.
Get to know Andy P. in our second installment of our Employee Spotlight.
10 Random Questions for Andy:
Where did you grow up? I'm a native of Columbus, Ohio.
Do you have any pets? Yes, after holding out for several years, I was finally convinced at the end of last year to become a dog owner. WE have a red-headed Cavapoo named Ginger.
What is your favorite part of your current job? When I hear a member's business was directly impacted in a positive way through our efforts. At the end of the day, we measure our success through our members' successes. I would be remiss if I didn't also mention my coworkers as well. It's such a lift to know you get to come to the office every day and work beside a great group of dedicated individuals.
What do you do when you are not working? You will most likely find me with the kids somewhere, whether it be home, at a sporting event, birthday party, emergency room, etc.
What two books do you consider a MUST READ for everyone? Two huge extremes: The Complete Far Side by Gary Larson and Night by Elie Wiesel.
If we asked your family and close friends to describe you in one word, what do you think they would say? Loyal.
Where is your favorite place to vacation? I really enjoy being at home, but my family would probably drag me to Disney.
Career highlight? Probably the first time someone I considered to be a mentor asked me for advice
Tell us one thing that most people don't know about you. I've never been pulled over or gotten a ticket.
Where do you see yourself in 10 years? Sitting at a desk staring at college tuition bills and celebrating 20 years at the Ohio Chamber.