Next up in our Ohio Chamber Board Member Spotlight series is Managing Director of CBIZ MHM, LLC, Jeff Walters. Since becoming a board member, he has also been involved in several of our Ohio Chamber committees such as our Ohio Small Business Council, Taxation & Public Expenditures Committee as well as our Executive Committee.
What does your company do?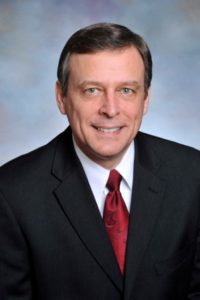 CBIZ, Inc. provides professional business services that help clients better manage their finances and employees. CBIZ provides its clients with financial services including accounting, tax, financial advisory, healthcare consulting, risk advisory, and valuation services. Employee services include employee benefits consulting, property and casualty insurance, retirement plan consulting, payroll, and HR consulting. MHM, an independent CPA firm, provides high quality audit and assurance services and works closely with CBIZ in providing professional accounting services.  CBIZ and MHM are together ranked as one of the Top Ten accounting providers in the nation, as ranked by Accounting Today, INSIDE Public Accounting and Public Accounting Report.  With more than 100 offices and more than 4,600 associates, we serve the country's growing mid-market public and private businesses as well as the not-for-profit sector.
How does your company impact to the Ohio economy/ benefit the Ohio business community?
Headquartered in Cleveland, Ohio, CBIZ is committed to the success of Ohio-based business. We seek to be recognized by our Ohio clients as the premier provider of accounting, insurance and other professional business services by providing them with solutions that help them achieve their goals.
What is your role at your company?
I serve as a Managing Director in the Northeast Ohio offices of CBIZ and a shareholder of MHM, Certified Public Accountants. My practice includes providing tax, consulting, merger & acquisition, succession planning, and other business advisory services to closely-held businesses. I've had the pleasure of assisting numerous companies in seeking investment capital, qualifying for tax incentives and evaluating financing alternatives.  I've enjoyed over 35 years of working with entrepreneurial businesses including start-up, developmental stage, and high-growth companies.
What do you hope to gain from your membership with the Ohio Chamber?
My involvement in the Chamber has given me the opportunity to have meaningful input on legislative and regulatory matters impacting my business clients.  The Chamber has always been at the forefront of issues such as regulatory reform and a fair and equitable tax system. I've had the pleasure of testifying before the legislature and meeting with a number of elected officials over the years as a member of the Chamber. In addition to the business relationships I've gained as a member of the board, I've found both the Small Business Committee and Tax Committee to be excellent forums for involvement, education on business issues and opportunities to meet on a regular basis with some of the top executives, owners and business advocates in the State.
How has serving on the board helped you or your company?
I have found the Chamber to be a great resource for education and advocacy on matters affecting Ohio businesses. Our company's clientele consists primarily of closely-held mid-market businesses, and our involvement in the Chamber has afforded us an opportunity to bring the issues affecting our clients to the attention of State decision-makers in a manner that helps promote a business-friendly environment in Ohio. I've also been able to gain a timely and comprehensive understanding of many major legislative, regulatory and ballot issues as they were happening so that I could bring the information back to my company, clients and other business organizations which have been able to help support initiatives that ensure the current and future success of the Ohio economy.
How long have you been on the board?
I've been on the board for over 15 years and serve on the executive committee.  I also have the privilege of being the current Chair-Elect.  Prior to joining the board, I was a Past-Chair of the Ohio Small Business Committee which I joined in 1986.
What are some of the latest goals/objectives of your company? (Policy or otherwise)
A major goal of our company is to deliver high value professional services to our clients and growth opportunities for our associates and shareholders. Our tagline is Our Business is Growing Yours, and we pride ourselves in bringing high quality professional services to help our clients achieve their goals and find success.  We also understand that our associates are our greatest resource.  Our "Great People, Great Place" program is an internal employee program we have to ensure that our CBIZ leadership and environment are, together, creating a place about which our employees are excited and where they are proud to work. Finally, as part of CBIZ's 20th Anniversary celebrations in 2016, employees nationwide were given the opportunity to collectively volunteer in their local communities for up to a total of 20,000 hours. This outreach was so successful and was given such enthusiasm by our employees that we have decided to make these CBIZ Cares efforts an ongoing part of our community involvement initiatives.
How has the Ohio Chamber helped your company achieve those goals/objectives?
The advocacy efforts of the Chamber have been very effective in promoting pro-business policies and issues which have helped our company and our clients grow and prosper. Becoming active in the Chamber has allowed us to have a voice in promoting business issues and protecting the interests that affect our company and the business clients we represent. Whether it's tax issues, employment laws, regulatory issues or even social issues which have a major impact on business such as marijuana and opioids, our involvement in the Chamber has been invaluable in staying current on major issues and in having the opportunity to be proactive in influencing the issues which impact our company, our clients and the Ohio economic environment.