The opioid epidemic is destroying communities across the country including those in our state. As part of the Sharing Solutions initiative, the United States Chamber of Commerce Foundation is traveling around the country to discuss how the business community can play a critical role in combating the opioid crisis in both the workplace and the community at large.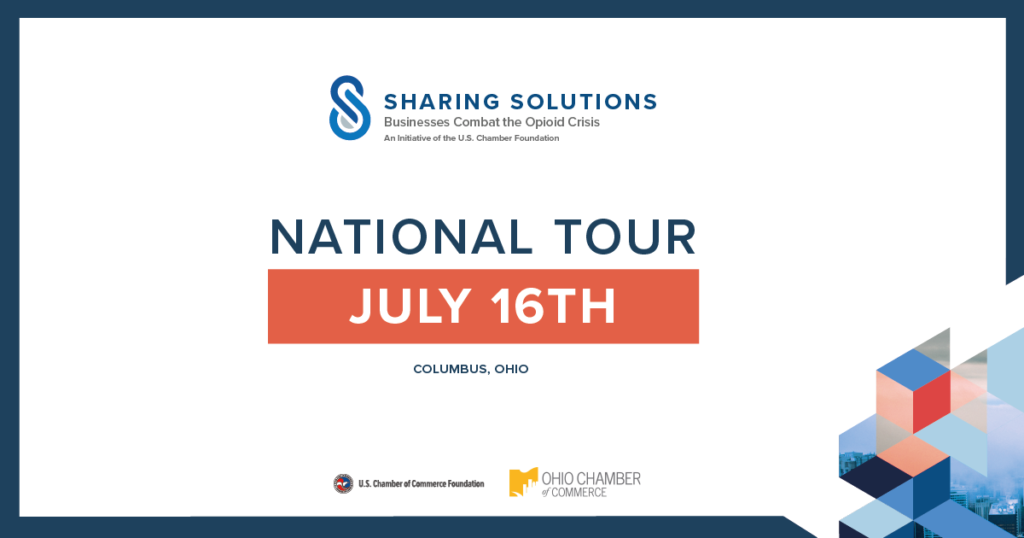 On Tuesday, July 16, the Ohio Chamber of Commerce will host this free Sharing Solutions program featuring speakers from around the country and Ohio. We invite all business people to join us as we convene local and national employers, substance use disorder experts and community leaders for a morning of thoughtful dialogue on leveraging insights and best practices to combat the opioid crisis.
The program runs from 8:30 a.m. to 11:00 a.m. and is open to all Ohio business leaders. A continental breakfast will be provided. The program will be held in the Ohio Chamber's first floor meeting room at 34 S. Third Street in downtown Columbus.
The agenda features a national experts panel with President of the Nationwide Foundation Chad Jester (Denial, Ohio) and Kroger's Health & Wellness Compliance Officer Nicholas Gonzales talking about what their respective companies are doing to provide opioid education. A second panel will feature local success stories from Worker Partners President Dee Mason, President and CEO of CleanTurn John Rush and Vice President, Human Resources for Castco Management Services Lindsey Pavlik. The Director of RecoveryOhio, Alisha Nelson has also been invited to participate. A full list of speakers is on the registration webpage. There will be time for attendees to ask questions and talk about their experiences with opioids in their own places of work.
Though the event is free, space is limited so those wishing to attend must register by July 15. To register, click here.