Our next Board Member Spotlight highlights Jan Bans, Senior Director of Legislative and Regulatory Affairs at AT&T. She is a recent Ohio Chamber Board Member but has also served on several Ohio Chamber committees over the past few years.
What does your company do?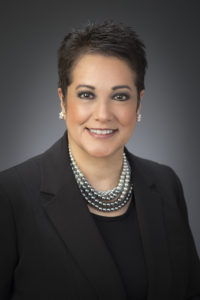 At AT&T we're bringing it all together. We deliver advanced mobile services, next-generation TV, high-speed internet and smart solutions for people and businesses. That's why we're investing to be a global leader in the Technology, Media and Telecommunications industry. Fast, highly secure and mobile connectivity – to everything on the internet, everywhere, at every moment and on every device – is what drives us. It's reflected in our mission: "Connect people with their world, everywhere they live, work and play…and do it better than anyone else".
How does your company impact the Ohio economy/benefit the Ohio business community?
At AT&T, we've invested more than $1.4 billion in our Ohio wireless and wired networks during 2014-2016. These investments drive a wide range of upgrades to reliability, coverage, speed and overall performance for residents and businesses. They also improve critical services that support public safety and first responders. Together, these investments help to ensure that Ohio remains a great state to do business. As one of Ohio's largest employers, we are constantly looking to add jobs to Ohio's economy. And that's why we want to ensure that our schools are preparing students for the jobs of tomorrow. Because of that commitment, we've invested more than $6.6 million in education initiatives across the state. Our employees have volunteered nearly 67,000 hours, and mentored more than 5,200 students.
What is your role at your company?
I am the Senior Director of Legislative and Regulatory Affairs. I am responsible for the management of key statewide legislative and regulatory policies for AT&T in Ohio.
What do you hope to gain from your membership with the Ohio Chamber?
The Ohio Chamber of Commerce is the leading business association in Ohio and AT&T is proud to be a Chamber Champion. Through our membership we have worked closely in creating good public policy not just for our industry but for all Ohio businesses. We value the relationships we have with the Chamber staff and other Chamber members and look forward to continuing the work we do together.
How has serving on the board helped you or your company?
As a member of the Ohio Chamber of Commerce Board of Directors I have the opportunity to connect with leaders in business and government from across the state as we work towards the common goal of good public policy. I also participate on the Public Affairs Committee, Public Affairs Executive Committee and the Taxation & Public Expenditures Committee. These committees have proven to be a valuable resource of information and insight.
How long have you been on the board?
I have been a member of the Board of Directors for one year. However, I have participated on the above mentioned committees for 3 years.
What are some of the latest goals/objectives of your company?
People everywhere are using connected devices for nearly everything. To accommodate the surging amount of data that accompanies these solutions, without driving prices sky high for consumers, we must densify our network to operate more efficiently. One way that we are achieving that is with small cells.
Small cells are flexible network solutions that can be readily deployed to specific locations that are heavily populated, prone to connection issues or that can't effectively be served by a traditional macro cell. Small cells help to deliver increased data capacity, faster connectivity speeds and an overall better wireless experience today, while also preparing us for the technologies of the future – such as 5G, smart cities and new developments in the Internet of Things (IoT). We are continuing to work with state and local policy makers to integrate this technology into existing infrastructure.
How has the Ohio Chamber helped your company achieve those goals/objectives?
At AT&T we strive to work alongside policymakers, civic leaders and other external stakeholders to develop forward-looking policies and solutions that help encourage investment, spur innovation and maintain a level playing field for companies in the technology/telecommunications space. We often work alongside of the Ohio Chamber to ensure that our policy goals are in line with Ohio's business climate.