Next up in our Ohio Chamber Board Member Spotlight series is Nationwide Senior VP of Government Relations, Steven English. Since 2014, Steve has served on the board for the Ohio Chamber and Nationwide continues to be a Chamber Champion among our over 8,000 members.
What does your company do?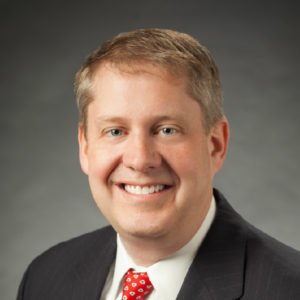 Nationwide is a Fortune 100 multiline insurer and financial services provider. We grew from the Ohio Farm Bureau Federation and are 90 years young. We have three business lines (Financial, Property-Casualty, and Innovative Business) and multiple staff functions such as Finance, HR, IT, Legal, and Marketing
How does your company impact to the Ohio economy/ benefit the Ohio business community?
We employ over 33,000 associates "Nationwide" and nearly 17,000 in Ohio alone.  We also have tens of thousands policies in-force in the Great Buckeye State.
What is your role at your company?
I'm Senior Vice President of Government Relations and am part of our legal operation (OCLO – Office of the Chief Legal Officer).  I've been with the company for almost 13 years, having spent the first half of my tenure in Washington, DC and now in Columbus.
What do you hope to gain from your membership with the Ohio Chamber?
As a longtime member and current "Chamber Champion", we receive a tremendous amount of value-add from the organization.  Through my directorship on the Board and many colleagues serving on a variety of Chamber committees, the benefits are plentiful.
How has serving on the board helped you or your company?
It's provided a strong network of great professionals who all come together to have a positive impact on business in Ohio.  I've thoroughly enjoyed getting to know my fellow Directors and the very talented staff at the Chamber.
How long have you been on the board?
4 years.
What are some of the latest goals/objectives of your company? (Policy or otherwise)
As a mutual, we always strive to provide the best products and services for our members and partners.  With the continually changing legislative and regulatory environment at all levels of government, we know things like the future of autonomous vehicles, tax reform implementation, and customer standard of care will be focal points this year.
How has the Ohio Chamber helped your company achieve those goals/objectives?
Like a mutual company, the Chamber always has its members best interest in mind.  The institutional knowledge of the political structure and makeup of the state and the relationships fostered with so many policymakers, makes the Chamber an extremely strong trade association.