On Monday, July 10, Anthony-Thomas Candy Co. hosted the Ohio Chamber of Commerce to kick off the 2017 All For Ohio Tour. Anthony-Thomas has been a member of the Ohio Chamber for the past 33 years.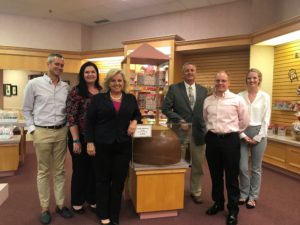 The visit started with a guided tour of a behind-the-scenes look at how the chocolate is made and packaged at the Columbus, Ohio factory. The Anthony-Thomas Candy Company came to be in 1952 by father-son duo, Anthony and Thomas Zanetos. The company stands as one of the largest family-owned and operated candy companies in the Midwest and employs over 200 people in the area, approximately 120 working full time at the factory. An average of 50,000 pounds of chocolate is produced daily by this team, and they are continuing to expand their retail, wholesale and contract-manufacturing divisions. The tour finished with a round of chocolate buckeyes, the company's most popular candy with several million being produced each year.
After the tour, the Ohio Chamber staff met with Anthony-Thomas President Joseph Zanetos to discuss the business and any legislative interests or concerns. Topics that came up during the discussion included updates on worker's compensation laws, potential upcoming effects on health care and Medicaid, as well as involvement in the Ohio Small Business Council, a committee under the Ohio Chamber of Commerce. Ending the visit with a discussion with President Zanetos allowed the Ohio Chamber staff the chance to hear more about what and how public policy issues are effecting members.
Anthony-Thomas Candy Co. still prides itself on the original values and hands-on business approach brought over by founder, Anthony Zanetos after immigrating to the United States from Greece. His work ethic remains strong in the generations that have come after him to take on the family business at the factory as well as among the 12 local retail outlets around the Columbus area.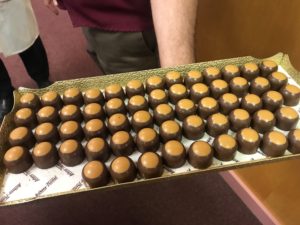 Anthony-Thomas was the first stop on the All For Ohio Tour. During this tour series, the Ohio Chamber will visit a variety of companies across the state of Ohio in order to facilitate critical conversations between business leaders, members and legislators. If your company is interested in being a stop on our All For Ohio Tour, please contact Kathy Eshelman [email protected].
#allforohio