The 2017 All For Ohio Tour continued on Tuesday, September 26 with a trip up to "America's Roller Coast" in Sandusky, OH to visit our members, Cedar Fair. In attendance were Ohio Chamber staff members along with Representative Steve Arndt. The tour took place at Cedar Point, one of 11 amusement parks Cedar Fair owns across North America. Overall, Cedar Fair parks entertain more than 25 million visitors annually and showcase over 120 roller coasters.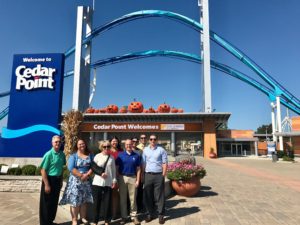 Cedar Point opened in 1870 and is the second-oldest operating amusement park in America, getting ready to celebrate their 150 year anniversary in 2020. The visit began with a shuttle tour through the property along with Cedar Fair and Cedar Point staff. The park is currently closed during weekdays, but is up and running for HalloWeekends Friday-Sunday until October 29.
Highlights of the tour, aside from the abundance of Halloween décor filling the park, were the recent expansion projects going on at Cedar Point. One of the most talked about upcoming attractions is the hybrid roller coaster, "Steel Vengeance." Previously called "Mean Streak", this new coaster will maintain the wooden structure, but will take on a new steel track. Breaking world records for the tallest, fastest and long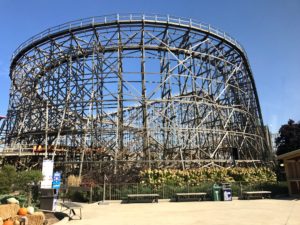 est hybrid roller coaster, you can find this wild west-themed ride in Frontier Town in 2018.
Another expansion to the property is occurring at Hotel Breakers, the 111 year old signature hotel of the park. After being refurbished from the ground up in 2015, the beachfront property will open its second tower next year, adding an additional 158 rooms. Keeping up on the park residences is key to Cedar Point, as the resort business helps distinguish them from other amusement parks.
The tour was followed with a presentation and roundtable discussion, led by Jason McClure, vice president & general manager of Cedar Point. The roundtable included several points of state policy issues that facilitated conversation among Ohio Chamber staff, Cedar Fair staff as well as Rep. Arndt. A top concern for the company was workforce development, a common issue among our members. Cedar Point hires roughly 6,000 seasonal employees, most of whom are looking for their first job. Noticing that work and life skills have started to decline in the potential workforce, it has become more difficult to find and retain high-quality workers for the park. In an effort to help the educational aspect of the workforce, Cedar Fair has started to work with schools in order to help breed those skilled workers.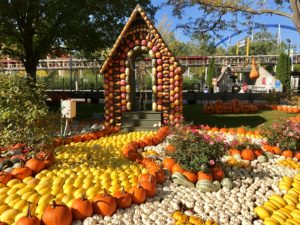 A successful example of this is their partnership with Bowling Green State University, where Cedar Fair works with them to connect students to internships while also having the chance to offer input on curriculum. The topic also raises the question on what the company can do to create a stronger work environment on their side. The competition for that quality and desirable workforce continues to increase across the state.
Other policy issues that were discussed included the need for more financial assistance from the state in the Ohio Tourism campaign, regulation and employment issues and infrastructure investments. The purpose of these tour visits is to facilitate that direct conversation between our members and state decision makers in order to make their voice heard on the issues affecting their businesses.
For more information on Cedar Fair and their other properties, visit their website.