They create candles.
We all create economic opportunity.
We're all for Ohio.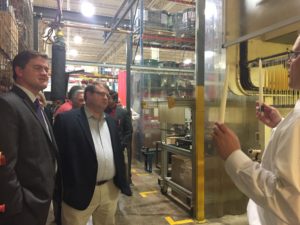 On Thursday, September 22 Root Candles hosted the Ohio Chamber of Commerce, the Greater Medina Chamber and state legislators representing Medina County during the All for Ohio tour.
Legislators in attendance were:
•Sen. Larry Obhof
•Rep. Steve Hambley
•Darrell Kick- Candidate for HD 70
The visit consisted of a factory tour followed by a roundtable policy discussion. The topics of discussion included the potential minimum wage increase, unemployment compensation reform, medical marijuana legalization and the impact of a potential "community bill of rights." The roundtable provided legislators and Ohio Chamber staff with a firsthand look at how public policy impacts Root's bottom line.
"Root Candles genuinely appreciates the "All for Ohio" tour visit by the Ohio Chamber, Rep. Hambley, and Sen. Obhof.  The direct discussion was constructive.  Being one of the Ohio Chamber's founding 55 companies, we have seen strong efforts over the past 12 decades to make sure that Ohio has a strong business and economic climate.  For Root, the close working relationship of the Ohio Chamber with its members and with our Ohio Legislature is vital to the future success to manufacturing in Ohio," Said Brad Root, president of Root Candles.
Based in Medina, Ohio, Root Candles manufactures premium quality religious and consumer candles.  The Root Company began in 1869 making beekeeping supplies and packing honey.  It still publishes a monthly magazine for beekeepers, Bee Culture, which was originally published in 1873.  Now in its 5th generation of family ownership and approaching its 150th anniversary, the company still values honesty, integrity, and plain old hard work, values that were exemplified by its founding father and American original Amos Ives Root.
Root Candles was the second stop on the All for Ohio tour. During this tour series, the Ohio Chamber will visit a variety of companies across the state of Ohio in order to facilitate critical conversations between business leaders, members and legislators.
#allforohio