Today, the Ohio Senate Government Oversight and Reform Committee passed Senate Bill 9 by a vote of 4-2. With today's action, it is our hope that the bill will receive a full Senate vote in the near future.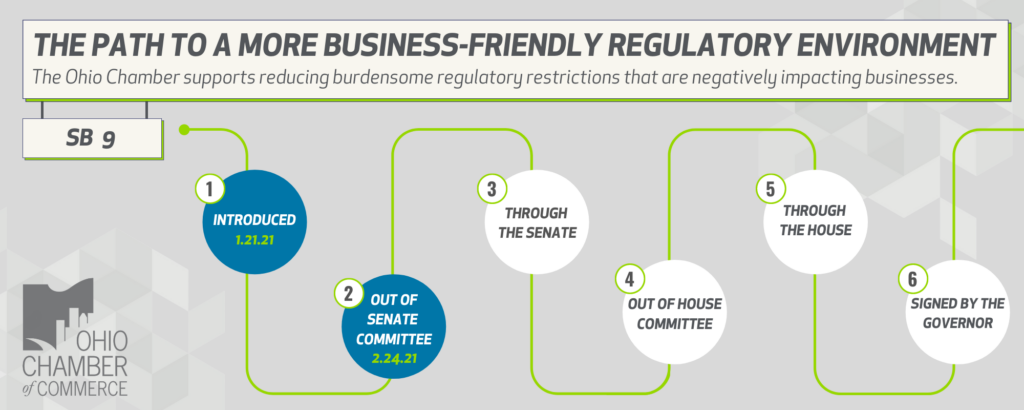 Earlier this month, the Ohio Chamber put forth proponent testimony regarding Senate Bill 9; a measure that would reduce regulatory restrictions for administrative agencies by 30% by the year 2025. Additionally, the bill would stipulate that if the agency cannot meet this reduction schedule, they must comply with the "2-for-1" requirement for any new regulatory restriction.
This bill has appeared in the previous two general assemblies – SB 293 in the 132nd general assembly and SB 1 in the 133rd general assembly – each time receiving support from the Ohio Chamber as well as other business trade associations. Specifically, the emphasis is on reducing the number of regulatory restrictions, not actual regulations. A regulatory restriction is defined as any of the words "shall", "must", "require", "shall not", "may not", or "prohibit" when they appear in the body of a regulation.
One remaining portion of SB 9 is the inclusion of a web portal that would allow for Ohio businesses to directly identify specific regulations that are particularly irksome for them. This portal was first proposed to the Ohio Small Business Council as a way for small business owners to easily communicate with the Joint Committee on Agency Rule Review (JCARR) regarding regulations that they believe to be unfair.
Currently, JCARR and the Common Sense Initiative (CSI) do a great job during the implementation of rules, but overall reduction of regulations in our state is needed. This effort is vital to increasing economic competitiveness and driving down barriers of entry for businesses, particularly small businesses. SB 9 takes the next step in the long line of positive reform that Ohio has made to improve the regulatory environment for businesses, and we are hopeful that this time, it will be able to make it completely through the legislative process.